What Zydelig's Failure Means For Gilead Investors
Full article by Alexander Poulos on Seeking Alpha

Summary
Drug discovery is fraught with perils.
There are scant guarantees of success, yet a clinical success will ensure a windfall of revenue.
The recent discontinuation of numerous Zydelig trials should serve as a reminder of the perilous process of drug discovery.
The blow to Gilead Sciences is hardly fatal as outlined below.

Gilead Sciences (NASDAQ:GILD) has leaped to the forefront of investors consciousness due to the combination of explosive revenue growth coupled with a low multiple. Much of the gain remains centered on the company's dominant Hepatitis C franchise (HCV) which continues to garner the lion's share of revenue spent to treat the disease. GILD is wisely looking to expand its therapeutic scope away from infectious disease to counter the inevitable drop in earnings as patients are cured of HCV. Friday's announcement of the discontinuation of Zydelig's six clinical trials should be viewed as a disappointment.
Oncology Franchise
The oncology space remains one of the most bandied about areas where GILD should focus its considerable resources. The sector is littered with numerous competitors all vying for treatment. GILD's modus operandi is to seek an "anchor molecule" to use as the clinical backbone for its products. The theory holds the company will continually develop new add on therapies, effectively extending the patent life of the molecule. The strategy has worked superbly in anti-virals with GILD long-term dominance in HIV (roughly 6 out of 10 patients use as GILD product) and HCV (with GILD market share well over 90%).
GILD's initial foray in oncology is Zydelig (Idelalisib) a Delta-specific PI3 kinase inhibitor for the treatment of relapsed chronic lymphocytic leukemia. The compound was acquired in 2011 when GILD purchased Calistoga Pharmaceuticals as detailed here. The initial belief was Zydelig would serve as the clinical backbone for GILD first foray in the oncology space. The molecule was assigned dreaded black box warnings almost immediately upon approval which in my view directly limited the compounds commercial viability. In essence, Zydelig was never destined for front-line therapy where the bulk of revenue is generated.
In my previous article detailing the CFO's presentation at a recent analyst conference, I got the immediate impression GILD was moving away from the oncology space due to lack of a clinical backbone at this time. Here is the exchange between Robin Washington and the analyst. The transcript is courtesy of the Sentieo platform.
Robin Washington, Gilead Sciences, Inc. - EVP & CFO [63]

Right. I mean, immuno-oncology is intersecting, right. There area lot of PD-1s out there and we are looking at some of the things that we have relative to our inhibitors that could be combined with those. It's still early, right, and we're seeing that 20% impact, what happens to the other 80%. When I think oncology in general, if you look at it broader there are solid tumors, blood cancers,immuno oncology there is a lot ofoptionality there and definitely an area of focus for us. I'd say and you've heard John and John talk about this, we clearly don't necessarily have that cornerstone molecule in oncology like we do in liver disease or HIV --I'm sorry in HCV and HIV. So that's clearly something that we would like to have if it's out there.

Michael Yee, RBC Capital Markets - Analyst [64]

Okay. So the key is that you're looking for a foundation molecule to build on starting with oncology.

Robin Washington, Gilead Sciences, Inc. - EVP & CFO [65]

Oncology, let's say broader than (multiple speakers).

Michael Yee, RBC Capital Markets - Analyst [66]

You have got broader HPV, and you haven't necessarily found that. It's one something where it could be levered combined with your (multiple speakers) as well as other things would add on top of it. And obviously PD-1 I think what many would argue is one corner molecule for sure that is going to combined but that's well within well saturated there (multiple speakers).

Robin Washington, Gilead Sciences, Inc. - EVP & CFO [67]

Saturated and, yes, it can be really differentiating right now, and I think if you go back to our core premise is to how we think about it having that differentiated molecule, right.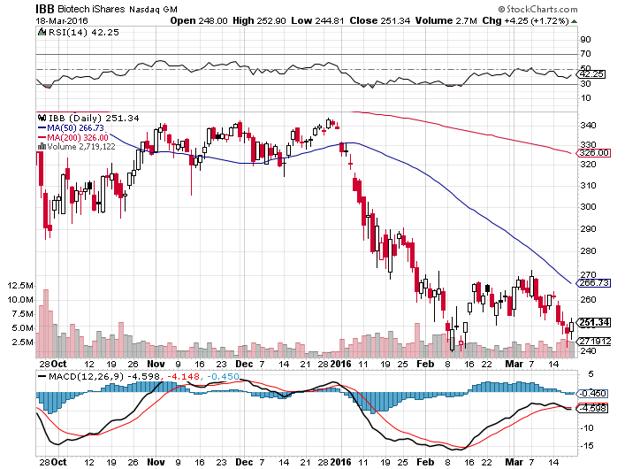 The Clinical Pipeline
I suspect GILD will remain stuck in its current trading range until the biotech sector comes en vogue again. As we can see from the charts above, the Biotech I-Shares ETF (NASDAQ:IBB) has tested the lows of February and the level has held. Utilizing the MACD the selling intensity is simply not there. The RSI confirms this as the retest came with a much higher RSI reading. Things will become more interesting for the IBB if the ETF is able to retake its downward sloping 50 day MA trendline poised at under 270.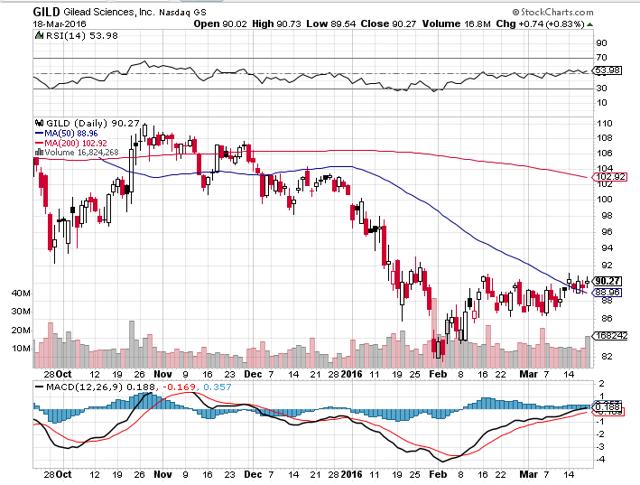 The technical landscape remains more constructive for GILD. The equity has retaken the 50 Day moving average although in a striking sideways pattern. The real test for the bulls will be if GILD can retake the 200 day MA sitting at $103. I suspect the catalyst for this will be the upcoming earnings announcement shown below.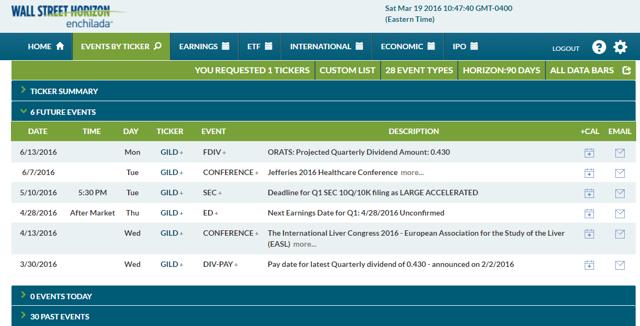 Table courtesy of Wall Street Horizon
With the technical backdrop highlighted above in mind, I found the following quote from John Milligan particularly revealing. The quote is taken from the recent Barclays conference courtesy of the Sentieo platform.
Geoff Meacham, Barclays - Analyst [12]

"When you look across the landscape though for some of the smaller biotechs, is there -- does sort of the weakness across the group change the urgency for any kind of business development activity?

John Milligan, Gilead Sciences Inc. - President, COO [13]

With the rare exception of post-Pharmasset, I think we always felt an urgency. We're highly active at looking at different opportunities out there. Post-Pharmasset we were extraordinarily busy because so much work had to go into accelerating that timeline and we were able to accelerate that by about two years from what was possible at the time of the acquisition. So, I do feel it's the right opportunity because we have capability; we certainly have great cash flow. We have a good need for products and there's I think going to be a lot of things available in the coming year or years.

The urgency comes because you don't know how long these windows last. If I were to take a step back, I thought we would have more time to pick and choose across new opportunities and private companies before the last IPO window opened up and values went dramatically up. So, that caught me a little bit by surprise. You don't know how long the value of the sector will stay down. It may rebound faster than we think. So, I don't want to take for granted that these opportunities could go away in the future.
Perfect, while there are no guarantees of success, GILD is in a prime position to land multiple promising compounds at a more reasonable cost than at the same point last year. I would like to see additional deals such as the Galapagos deal as detailed here. While the Galapagos deal using a direct baseball analogy will not end up as a homerun, instead a solid double is well within reach. Add a few more doubles and GILD will offset the decline in HCV revenue leading to a higher multiple.
Finbox.io Model
My fair value target for shares of GILD remains at $132 as detailed in a previous article seen here. The faster the company can arrest the expected revenue decline will lead to a higher multiple. For now, I am projecting scant revenue growth until well into the next decade. The management team at GILD has ample time to address this issue, how able they are will determine the validity of the price target. In my personal account, GILD was purchased at $74.08, I intend on allowing the dividend to compound while awaiting further clinical results. I would like to thank you for reading, and I look forward to your comments.
Investors are always reminded that before making any investment, you should do your own proper due diligence on any name directly or indirectly mentioned in this article. Investors should also consider seeking advice from a broker or financial adviser before making any investment decisions. Any material in this article should be considered general information, and not relied on as a formal investment recommendation.
Disclosure: I am/we are long GILD.
I wrote this article myself, and it expresses my own opinions. I am not receiving compensation for it (other than from Seeking Alpha). I have no business relationship with any company whose stock is mentioned in this article.