It's That Time: The One-Week Pre-earnings Momentum Trade in Netflix
Access full article
Date Published: 2017-09-27

PREFACE
Netflix Inc (NASDAQ:NFLX) has earnings due out Monday, October 16th, after the market closes based on data from our earnings date partner Wall Street Horizon. Seven calendar days before then would be 10-9-2017, so about two-weeks from today. Coming off of a nice win in THO, now it's time to look at the company's remarkable history of momentum into earnings events and how it compares to FAANG more broadly.

There is a bullish momentum pattern in Netflix Inc (NASDAQ:NFLX) stock 7 calendar days before earnings, and we can capture that phenomenon explicitly by looking at returns in the option market.

LOGIC
The logic behind the back-test is easy to understand -- in a bull market there can be a stock rise ahead of earnings on optimism, or upward momentum, that sets in the one-week before an earnings date.

Stock Chart
We can start with a stock return chart over the last year comparing Netflix (in red) to the rest of FAANG.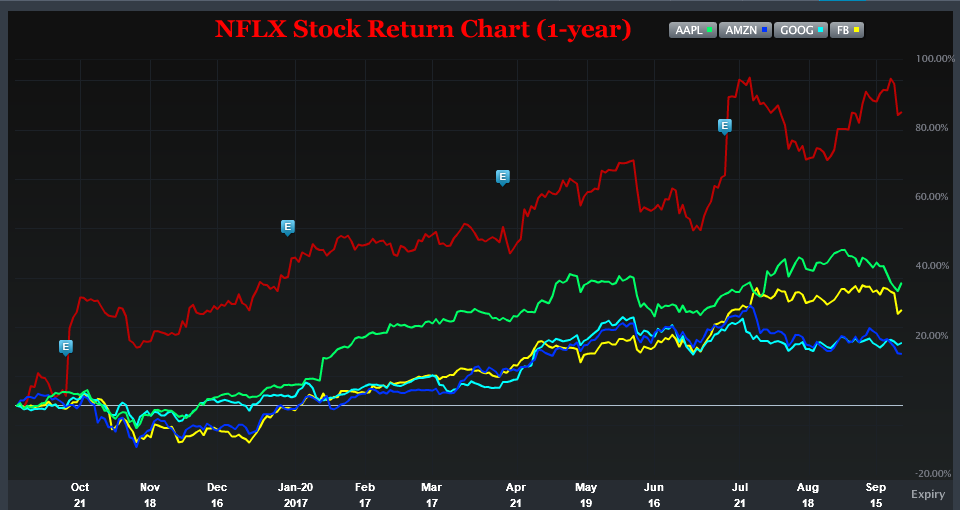 Netflix has more than doubled the rest of the high momentum crew.

The Bullish Option Trade Before Earnings in Netflix Inc
We will examine the outcome of getting long a weekly call option in Netflix Inc 7-days before earnings (using calendar days) and selling the call before the earnings announcement.

Access rest of article