Mednax: Profiting From Continuing Consolidation In The Healthcare Sector
Full article by Alex Poulos on
Seeking Alpha
Summary
Consolidation in the healthcare sector will continue.
Identifying the consolidators in the field can lead to outsized gains for investors.
Mednax is well poised to profit on the trend as detailed below.

Mednax: Profiting from Continuing Consolidation in the Healthcare Sector.
The Healthcare sector remains one of the most compelling sectors on the market today. Healthcare offers a compelling mix of predictable earnings growth coupled with the defensive nature of the industry's revenue stream make it well suited for long-term investing. The article below will discuss the current opportunity available in Mednax.
Mednax

The healthcare field remains one of the bright spots in the US economy. The consumption of healthcare remains relatively impervious to the vagaries of the business cycle; demand tends to stay fairly uniform and constant. Typically, companies that can consistently increase revenue while maintaining margins remain the very best choice for investment funds. The theory behind my enthusiasm for these enterprises is rather straightforward, an incredibly predictive business model with consistent demand and stable margins are very easy to model.
Markets can remain irrational for extended periods of time; the companies that thrive once the cycle turns up are those that continue to reinvest and grow the business. I would like to highlight Mednax (NYSE:MD), a company that fits the above definition quite nicely. MD is a consolidator in the healthcare field; they will purchase the existing practice and integrate them under their corporate umbrella. In essence, the physician is going from a small practice operator with high overhead costs to an employee that enjoys the efficiencies of scale through the corporate entity. MD currently employs over 2500 physicians in its network, an impressive number. Let's examine the three primary revenue generators for the company.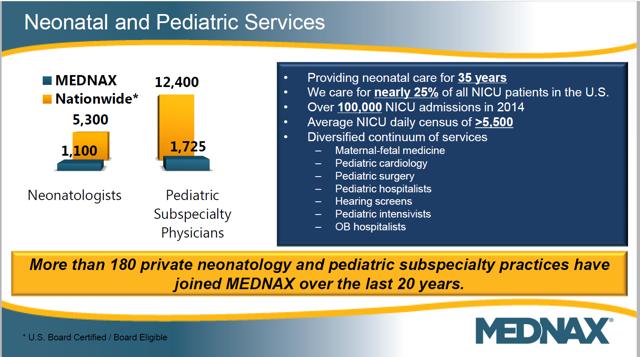 MD's original corporate moniker was Pediatrix. As the name indicates, Pediatrix's primary focus was providing neonatal and pediatric care as seen from the slide above. Revenue growth in this division remains challenged as seen from the birth stats below.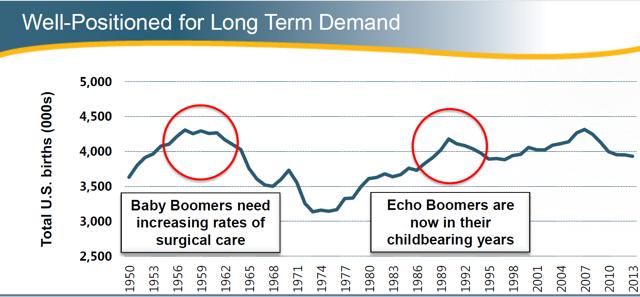 Anesthesiology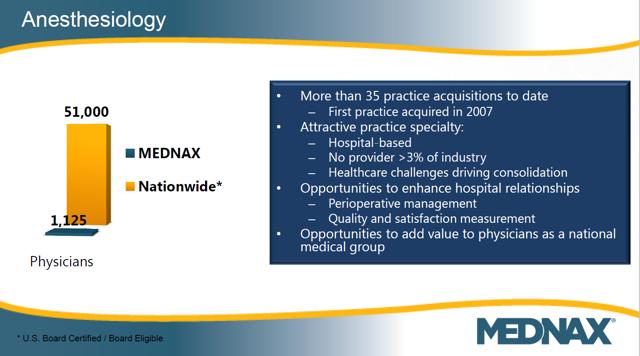 The Anesthesiology division offers the best prospects for future growth over the next few years. The largest tailwind is the aging of the baby boomer population. As shown in the population slide above, the aging demographic trend bodes well for an increase in consumption of medical care. MD remains active on the acquisitions trail, with anesthesiology practices serving as the focus of the company's desire. MD's acquisitive streak continues with the addition of five additional practices this year; the company looks to aggressively grow their market share.
New area of Focus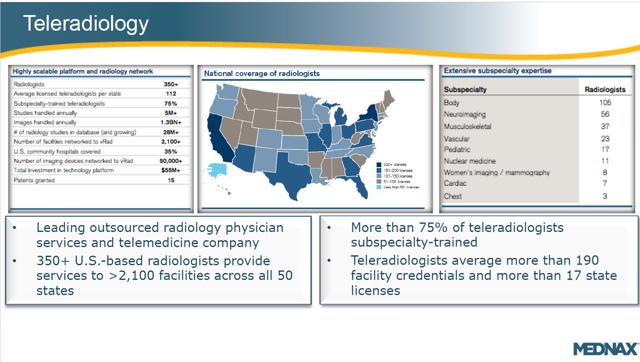 Teleradiology will now encompass the third area of the company's expansion plan. vRad was acquired in the middle of last year for a price tag of $500 million. I found the following quote particularly compelling,
"We believe vRad is an excellent platform for growth in teleradiology and the broader telemedicine market," said Roger J. Medel, M.D., Chief Executive Officer of MEDNAX."Radiology is a large, fragmented industry with total revenue of roughly $18 billion, and it is evolving rapidly to include teleradiology as an economic and clinical necessity for customers. We believe the opportunities for organic growth at vRad and for cross-selling between the company's and MEDNAX's customer bases are compelling. This acquisition also further broadens the scope of services we can provide to our hospital partners. Finally, vRad's extensive investments in information technology and data analytics align well with our own commitment to improving both the quality and cost-effectiveness of care."

vRad currently generates annual revenue of roughly $185 million through its network of more than 350 U.S.-board certified and eligible radiologists, more than 75 percent of whom are subspecialty trained. The company reads and interprets more than five million diagnostic imaging studies annually, which are included in vRad's proprietary picture archiving and communication system (PACS).

The company provides radiology coverage to over 2,100 healthcare facilities across all 50 states and internationally. vRad's proprietary technology and workflow platform, extensive database, and analytic capabilities enable real-time distribution of studies to appropriately trained, licensed and credentialed physicians in order to improve clinical outcomes, increase speed of diagnosis and reduce the cost of care.
MD acquired vRad for roughly 2.7 times sales, a relatively steep multiple. The stock price initially reacted positively post the transaction, yet MD has fallen prey to the sector rotation out of healthcare stocks in general. MD business model takes advantage of the disconnect between private market EBITDA prices for individual practices and the EBITDA multiple equated to a publicly traded enterprise. Thus, by MD continuing to acquire enterprises at EBITDA multiples well below their current multiple acquisitions are accretive creating a very profitable long-term setup. As baby boomer practitioners age, many will look to "cash out" of their practice to fund their retirement. MD is well poised to capitalize on this long-term trend.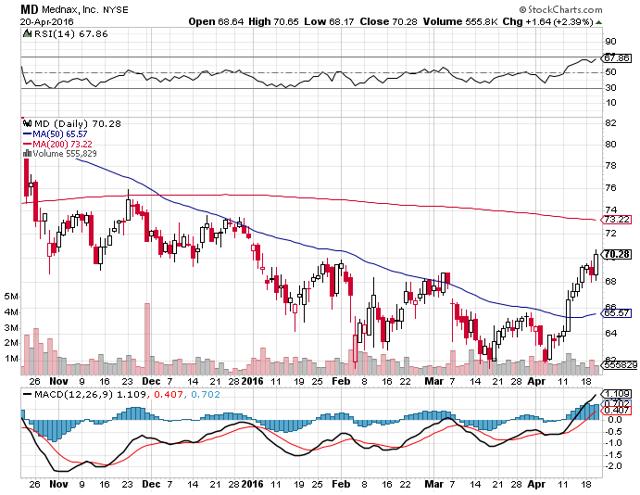 As illustrated above, MD's chart was less than constructive, as the shares have sold off. The share price remained under pressure with a failed bounce off of the mid-February lows. Interestingly, the MACD chart illustrates a far different picture with a positive divergence forming over the past couple of weeks. The shares are currently under accumulation with $73 serving as upward resistance. The $73 mark is the home of MD's flattening 200-day moving average. A definite break above would be used as an additional technical catalyst to push the share price higher.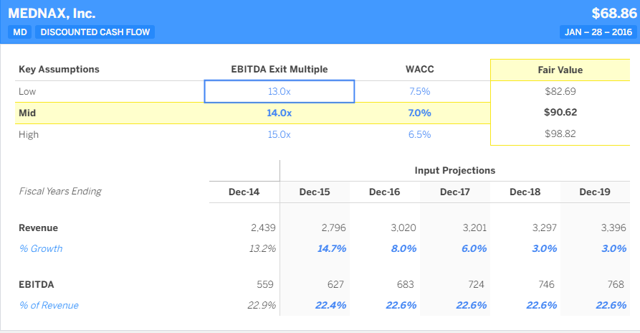 MD is the type of company my portfolio favors. MD's revenue growth is very consistent and predictable; revenue has grown every year since 2005 including the great recession in 2008. Operating margins remain remarkably stable, falling well within the 22.5-24% range. The EBITDA exit multiple used is the average the market has assigned to the shares since 2005; interestingly the multiple rarely fluctuates much outside of the 2008 period. My Fair value target for MD is $90.62 per share, substantially higher than the current quote.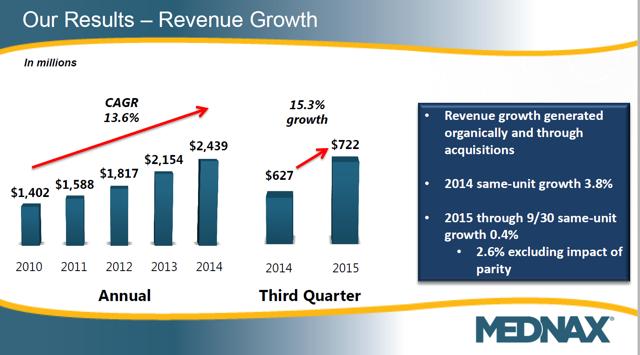 Revenue growth continues to climb at a relatively steady double-digit clip. Very few companies can maintain such sustained growth.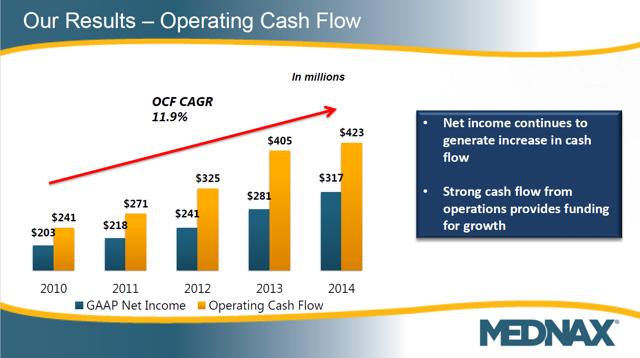 Cash flow continues to rise at a constant rate as well. Cash flow is the key figure I focus on; earnings can be manipulated via share repurchase schemes. In MD's case, the share repurchases done are there to prevent option dilution. MD's share count has remained stable at 95 million shares outstanding since 2005.
Politics
The Healthcare sector as a whole is under strain due to the electoral process underway in the US. Traders move in and out of shares in the biotech, traditional pharma and providers often based on a few comments by potential presidential candidates. I feel my experience as a practitioner can add some context to what is going on here.
I steadfastly believe the best sectors of the market can be classified as the " innovators," i.e., those that create the goods and services needed or craved by consumers. Examples of innovative companies range from Biotech in general (life-saving therapies), Google (NASDAQ:GOOG) (NASDAQ:GOOGL) (search), Visa (NYSE:V) (cashless transactions), and Apple (NASDAQ:AAPL) (iOS ecosystem, iPhone), etc.
The fear driving the entire medical sector down is a massive cut in reimbursement imposed by the Federal government. The fear was in the marketplace as Obamacare was making its way through the legislative process. The HMO stocks, most notably United Healthcare (NYSE:UNH) was trading at less than seven times cash flow or 10 times earnings as investors fretted the ongoing profitability of the company would never be the same.
Needless to say, UNH went on a tear shortly afterward doubling in less than three years. I detailed the company in a report issued in 2013; it was one of my least read articles ever. I sold the shares a bit premature in 2014 to purchase shares of Gilead Sciences (NASDAQ:GILD). UNH trades well above its average cash flow multiple making me uncomfortable in holding the shares.
Over the long term (10-15 year outlook), you are far better off investing in innovative companies trading at below average multiples. I suspect when the fear subsides, (more than likely after the November elections), the medical sector will outperform once again. Until then, patience is warranted.
Wall Street Horizon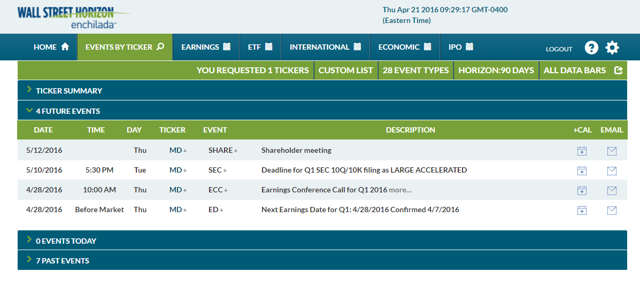 The chart is courtesy of Wall Street Horizon, a fantastic app for tracking future corporate events.
MD is slated to release earnings on the 28th of April. I will update the post once earnings are released.
Conclusion
Shares of MD offer an interesting way to profit on continued consolidation in the healthcare field. As regulations and overhead continue to increase, the natural trend for practitioners is to consolidate to spread out the cost of compliance. MD is well poised to capitalize on the trend for reasons discussed above. I am long the shares and view MD as a compelling long-term investment. Thank you for reading, and I look forward to your comments.
Investors are always reminded that before making any investment, you should do your own proper due diligence on any name directly or indirectly mentioned in this article. Investors should also consider seeking advice from a broker or financial adviser before making any investment decisions. Any material in this article should be considered general information, and not relied on as a formal investment recommendation.
Disclosure: I am/we are long MD, GOOGL, V, AAPL, GILD.
I wrote this article myself, and it expresses my own opinions. I am not receiving compensation for it (other than from Seeking Alpha). I have no business relationship with any company whose stock is mentioned in this article.