My Thoughts On Gilead Sciences' Patent Loss
Full article by Alexander Poulos on Seeking Alpha

Summary


Gilead Sciences is locked in a patent dispute with Merck.
Merck believes that Gilead Sciences Sofosbuvir infringes on previous work conducted by Merck scientists.
A jury has reached a verdict in favor of Merck..

My thoughts will be detailed below.
A significant news event broke yesterday pertaining to the ongoing patent dispute between Gilead Sciences (NASDAQ:GILD) and Merck (NYSE:MRK). The jury found that GILD indeed infringes on a previous patent and will now deliberate on damages. The article below will discuss my views on the subject.
Patents
I am not surprised by the initial jury verdict that GILD infringed on MRK's patent. This type of event is becoming increasingly more frequent as medicinal compounds become more complex. The more important issue is the degree of infringement. As we can see from the included link, MRK is seeking $2 billion in damages and a 10% royalty.
Merck
It is interesting to note that MRK scientists conducted the rigorous research to lay the groundwork for Sofosbuvir to come into existence roughly 15 years ago. The more pressing question is why did they let the research languish? MRK is a pharma heavyweight with significant resources. Clearly, this is a missed opportunity for them. Even if the jury were to award them a 10% royalty on future sales of Sofosbuvir, the compound has generated over $20 billion in sales thus far and is on pace in my view to generate over $100 billion during the quest to eradicate Hepatitis C (HCV). Using the $100 billion dollar figure, MRK share from Sofosbuvir would equal $10 billion, certainly a decent amount yet a bittersweet victory. In all fairness, if they were paying closer attention they should have garnered the full amount.
Gilead Sciences
The jury verdict thus far is a setback for GILD yet far from a crushing blow. GILD decision to purchase Pharmasset the developer of Sofosbuvir for $11 billion has more than paid off for them. Yes, GILD did spend significant funds to bring the compound through Phase 3 trials yet the team at GILD deserves the credit for bringing the compound forward. GILD clearly understood the promise of the compound well before the other more established players such as MRK and Abbvie (NYSE:ABBV) and basically swooped in to dominate the market. The purchase of Pharmasset and the commercialization of Sofosbuvir is easily one of the best medical advances this decade.
How does the verdict impact Gilead Sciences' prospects?
The decision is a negative with the shares poised to trade down in the news. Over a longer term view, the effect is rather minimal. GILD is currently trading at a depressed level with the Street factoring a severe decline in HCV revenues going forward, a view that I do not share as detailed here. I believe the marketplace will be quite robust for a year as countries move to slowly eradicate the disease thus ensuring the typical revenue life cycle of a pharma product.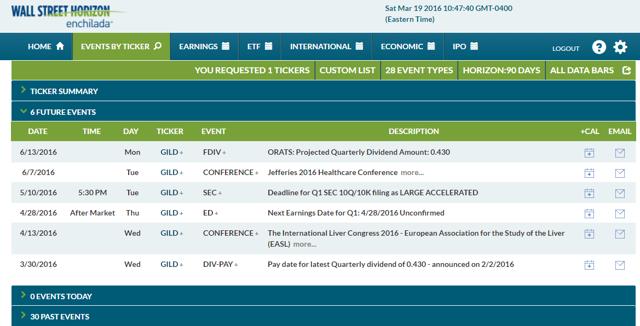 The next Catalyst for Gilead Sciences
The next catalyst for the share price will be the upcoming earnings release slated for April 28th. Over the past few quarters, GILD typically underpromises on revenue only to vastly overdeliver. It will be interesting to see if the pattern holds once again. My initial suspicion is 2016 will mark peak sales for GILD, not 2015 as many have suggested. GILD's initial sales guidance for 2016 mirrored the guidance originally issued for 2015. The numbers for 2016 will include a full year of sales in Japan and a more aggressive treatment goal from the EU with the headwind of lower prices per treatment here in the US. To say the least, I am anxious to see the report and listen to the conference call.
The next major catalyst is any movement in their pipeline or through aggressive M&A activity. GILD is slated for data reads later this year which may shed clues on the value of their investigational pipeline. A new diverse revenue stream away from infectious disease would be the catalyst to spark the share to trade higher. The timing of such an event is uncertain yet with GILD growing cash pile and capable management team; I would venture to say the answers will appear sooner rather than later.
Finbox.io Model


My fair value model will be adjusted once GILD reports earnings in late April. For now fair value remains unchanged at $132. Thank you for reading and I look forward to your comments.
Investors are always reminded that before making any investment, you should do your own proper due diligence on any name directly or indirectly mentioned in this article. Investors should also consider seeking advice from a broker or financial adviser before making any investment decisions. Any material in this article should be considered general information, and not relied on as a formal investment recommendation.
Disclosure: I am/we are long GILD, ABBV.
I wrote this article myself, and it expresses my own opinions. I am not receiving compensation for it (other than from Seeking Alpha). I have no business relationship with any company whose stock is mentioned in this article.