AbbVie Superior Dividend Makes It A Top Choice In The Health Care Sector
Full article by Alexander Poulos on Seeking Alpha

Summary


Passive income growth through the collection of dividends is an excellent way for one to augment their income.
Typically, an investor will forego rapid capital gains growth for a higher quarterly payout.
A high dividend yield is typically a sign of a mature business who's best days are behind them.
That is clearly not the case here with AbbVie as will be detailed below.
AbbVie offers a compelling blend of growth along with a generous dividend.

The healthcare industry remains an excellent choice for investors who seek income growth through a rising dividend along with outstanding growth prospects. AbbVie (NYSE:ABBV) neatly fits the above definition with a dividend yield approaching 4% coupled with years of growth ahead of it protected by a wide swath of intellectual property patents. The article below will discuss ABBV prospects along with a look at the dividend.
Intellectual Property Patents
The companies that operate in the drug discovery field enjoy broad intellectual patent protection (IP) for their compounds. The IP allows for gross margins above 80% which illustrate just how lucrative the field is. I would like to examine some of ABBV most profitable compounds to determine the prospects of the company.
Humira
Humira remains the top selling patent product in the world. ABBV has brilliantly expanded Humira label over the years beyond the initial indication for the treatment of Rheumatoid Arthritis (RA). Each additional new indication needs to be validated through clinical trials, once the tests are complete, and the compound shows particular effectiveness in treating a disease the FDA will allow for a broadening of the prescribing label. The broader the prescribing label, the more lucrative the product will become. For instance, ABBV has received the approval to market Humira for the treatment of Crohn's disease, Ulcerative Colitis, Psoriatic Arthritis, Plaque Psoriasis and a host of others which can be seen here.
Humira sales account for roughly 63% of ABBV revenue stream. To say the least, the continued growth of the Humira franchise is necessary for the continued health of ABBV shares price. ABBV original patent on Humira is set to expire in December as shown in the slide below. The management team at ABBV has made clear they expect to "rigorously enforce" their patent estate from a biosimilar challenge. Management does not believe a biosimilar version of Humira will hit the market until after 2022 when the method of treatment patents expire. Needless to say, I believe ABBV will keep the legal profession quite busy over the next few years.
From my perspective, the biosimilar challenge is quite interesting here. Unlike oral dosage forms, biological products are quite complex and challenging to manufacturer. Thus far, the biosimilars available have not shown a distinct pricing difference compared to the branded product. For the purpose of the DCF valuation, I will figure in continued growth in the Humira franchise out until 2019.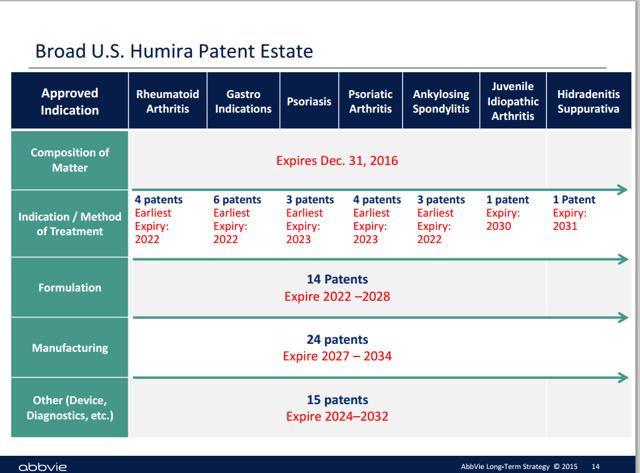 Imbruvica (Ibrutinib)
Imbruvica remains the second most important compound in ABBV arsenal. ABBV acquired a 50% interest in the compound through the aggressive take-out of Pharmacyclics last year. The revenue generated from the product will ultimately be split with Johnson and Johnson (NYSE:JNJ). Broad label expansion similar to what we have witnessed with Humira is critical for aggressive revenue growth. In the oncology field, first line status is essential for revenue growth. Imbruvica was recently granted the first line designation in Chronic Lymphocytic Leukemia (CLL) which will aid in revenue growth. ABBV expects Imbruvica to generate $5 billion in sales by 2020 versus the $754 million worldwide in 2015. ABBV is conducting additional tests where Imbrivucais used as the "clinical backbone" in combination treatment. The $5 billion dollar sales figure may prove to be conservative, yet nothing is assured at this time. Imbruvica continues to post impressive results; the more inclusive Imbruvica label is a net long-term positive for ABBV.
Hepatitis C franchise
ABBV initial foray into Hepatitis C (HCV) is the Viekira Pak, a multidose combination treatment. The combo product which may or may not utilizes ribavirin depending on the underlying disease state of the patient has thus far failed to make significant inroads into Gilead Sciences (NASDAQ:GILD) dominant share. V-Pak generated sales of $1.639 billion worldwide, significantly below GILD $19 billion worldwide from Sovaldi and Harvoni. The management team at ABBV indicated they expect HCV revenue to grow to $3 billion a year by 2020 which seems plausible. I would not be at all surprised if revenue growth in the US HCV marketplace in 2016 for ABBV remained under pressure by the newest entry from Merck (NYSE:MRK) dubbed Zepatier.
Clinical Pipeline
ABBV has an extensive pipeline of promising near to late term products which I will briefly touch on further. Elagolix is a promising new treatment for endometriosis. The product generated positive Phase 3 trial results which position the compound for a new drug application in 2017. The endometriosis market alone is expected to be worth $1 billion in annual revenue; label expansion would bump that number higher.
ABT- 494 and ABT-122 are in my view the most important compounds in ABBV pipeline. ABBV is conducting trials of ABT-494 for the treatment of RA. ABT-494 is widely seen as a key successor to the Humira franchise. Superior clinical results are necessary to ensure the transition from Humira once the product loses patent protection. ABT-122 is being studied for psoriatic arthritis one of the indications for Humira.Needless to say, positive clinical results for ABT-122&494 remains a long-term positive for shareholders of ABBV.
Upcoming Events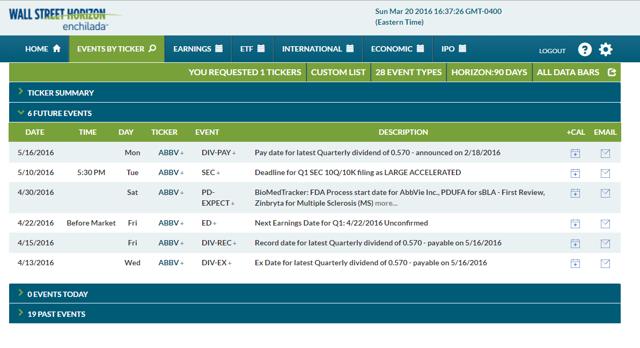 The chart is courtesy of Wall Street Horizon, a fantastic app for tracking future corporate events.
Finbox.io Fair Value Model


As illustrated in the chart above, my updated fair value model for ABBV is $69.38 cents. Part of the optimism for the jump in profitability is the 10% gain in operating margins due to a reduction in rebates and continued decrease in SG&A. ABBV remains significantly undervalued at its current quote of $56.57 per share. Keep in mind; ABBV is slated to pay a dividend of 57 cents per share per quarter. The dividend yield is north of 4% with an aggressive hike expected to be announced in the fourth quarter. I would not be at all surprised if a double digit dividend bump is announced, something in the order of 63 cents per share. ABBV is indeed generating a ton of cash, paying out a generous dividend remains an excellent way to reward shareholders. Take a look at this fascinating company; there is something for everyone to like here. I would like to thank you for reading, and I look forward to your comments.
Investors are always reminded that before making any investment, you should do your own proper due diligence on any name directly or indirectly mentioned in this article. Investors should also consider seeking advice from a broker or financial adviser before making any investment decisions. Any material in this article should be considered general information, and not relied on as a formal investment recommendation.
Disclosure: I am/we are long ABBV, GILD.
I wrote this article myself, and it expresses my own opinions. I am not receiving compensation for it (other than from Seeking Alpha). I have no business relationship with any company whose stock is mentioned in this article.