Is US Corporate Confidence in Danger of Slipping? LERI Says Yes
The uncertainty index which suggested CEOs were feeling more comfortable with how their businesses were performing in Q1 is now showing that confidence wavering ahead of Q2 earnings reports.
The Late Earnings Report Index (LERI) tracks outlier earnings date changes among publicly traded companies with market capitalizations of $250M and higher. The LERI has a baseline reading of 100, anything above that indicates companies are feeling uncertain about their current and short-term prospects. A LERI reading under 100 suggests companies feel they have a pretty good crystal ball for the near-term.
The fourth quarter earnings season (reported in Q1 2023) closed with a LERI of 104, suggesting that companies have gradually gotten less worried since the start of 2022.
Let's take a look back at how LERI readings have trended in recent years and why.

Figure 1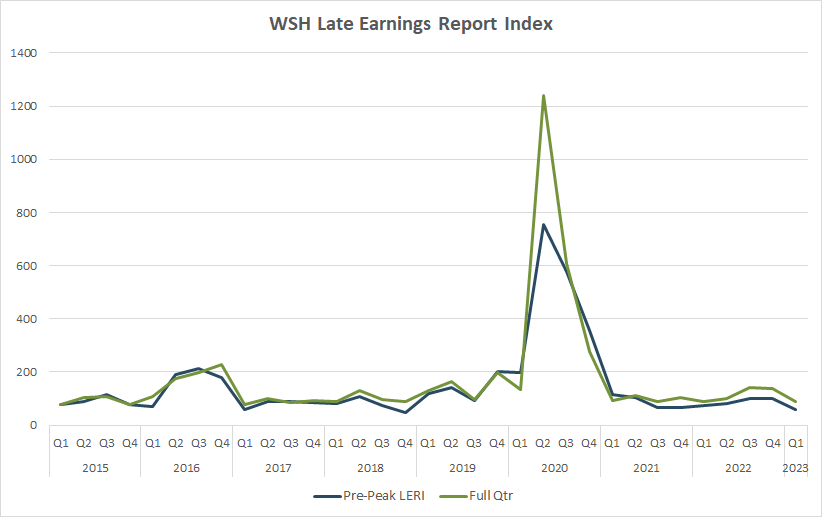 Source: Wall Street Horizon. Our data is locked based on which companies in our universe had market caps of $250M or higher at the beginning of each quarter.
Figure 1 shows quarterly LERI readings for the past 7 years. Back in 2016, a US presidential election year, you can see companies had very high LERI scores prior to the election in Q2 and Q3, and even during the election quarter in Q4. Uncertainty over who would win and what that would mean for the US economy and beyond was abound, even after President Trump won there was still uncertainty about what that would mean in the short-term. Once companies adjusted to the new reality, LERI readings were low throughout 2017 and 2018, despite one blip higher in Q2 2018.
In 2019 uncertainty began to rise again, and that continued into early 2020 as COVID shut down the entire world. That impact started to ease by Q1 2021 as companies had one year to absorb living through a pandemic and many started to benefit from reopenings and pent up consumer demand.
The rest of 2021 and Q1 2022 were pretty standard, but then in Q2 2022 you had a push higher in the LERI as corporations worried about inflation, interest rates and the possibility of a global recession.
Flash forward to the most recently reported quarter, Q1 2023 and the LERI has settled near its baseline reading of 104. This doesn't suggest CEOs necessarily feel good about the current business environment, more so that they have adjusted and are able to change accordingly. In reaction to a tougher climate, many companies, specifically in the tech space, have announced large workforce reductions after letting staff numbers balloon post-COVID. Many have announced a variety of cost cutting strategies to deal with inflation and the potential of a recession, these moves are often applauded by investors.
Early Q2 Readings Show Corporate Uncertainty Returning
Will the recent banking crisis, persistently high inflation, and the beginning signs of a weakening job market propel the LERI higher for the second quarter? An early signal shows that could be possible.
While we won't officially calculate the Q1 2023 earnings season LERI until the big banks (JPM, WFC, C) report Friday, April 14, the current pre-peak LERI reading stands at 104. This suggests there are more late than early confirmers, and this number tends to trend upward in the week leading into earnings season indicating that corporations are getting increasingly more worried heading into the second half of the year.
Check back the week of April 17 when we publish the first pre-peak LERI reading for the Q1 2023 earnings season.